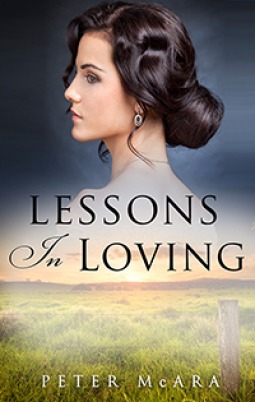 Lessons in Loving
by
Peter McAra
I think I am not the first to note that this was a man writing historical fiction! I read so many books written by women. This book was about Kate, who had finished getting her teaching degree and she has been to hear the suffragettes speeches on how women should be treated in the work place, not just at home having babies. It is 1902 and Kate sees an advertisement for a governess to teach in Australia in a back woods sheep farm. She decides to write and ask for the position.

She does get the position money to travel there and told of places to stay until she arrives. She does arrive at the station finally to find that not only is she not to teach a child but she is there to teach the man who owns the farm. His upbringing really ended at age eight. His Mother died when he was eight years old she used to teach him at home and his Father died not too soon afterward. He learned all that he knows from servants really. He isn't close to a local town, so the way he talks, his knowledge of things is rather crude.

Kate finds herself living in his home having meals with him, teaching him, and she finds that she is attracted to him. Her job though is to teach him to speak in a more refined manner to help him with his manners, his reading, diction, etc. His Mothers wish for him was to marry a proper English woman and he has one he wants to marry but he must get himself up to snuff as it were so that he may even feel as if he would be considered. Laetitia really just put up with him because her father said she should. She was never considering him as someone she should marryf!

When next she sees him he speak differently, his manners are different his awareness of the world around him is totally different. She finds that she thinks him very changed and not quite so out of her league as she thought him at first. The ending of the story of course is pretty much as you might expect. Although the book was enjoyable, I did like the bits of history and info about sheep farming etc., that was included in the story here and there. It was a good story a fast read.

I believe I received this book through net gallery in exchange for an honest review. I would give this story four stars.

Here is the description as found here on Good Reads: Wanted: Governess. Properly qualified in English, to instruct male pupil in rural location.

Sydney, 1902. Desperate for a job, Kate Courtney travels to the faraway New England Ranges to interview for a governess position. She is greeted by wealthy landowner, ruggedly handsome Tom Fortescue, and is shocked to find that her new charge isn't a small boy—but the grown man.

It was Tom's mother's dying wish that he find a refined, elegant, English bride to marry. But a country man with country manners can never win a lady fair. Tom needs Kate to smooth away his rough edges, make him desirable to the English rose he wants to marry.

But the more time Kate and Tom spend together, the closer they become, and Tom has to decide between the dreams of his childhood, and the reality that is right in front of him.