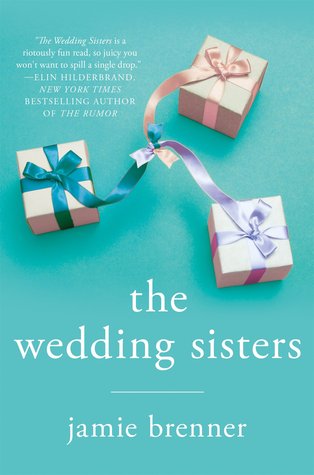 The Wedding Sisters
by
Jamie Brenner
(Goodreads Author)
What a great read! I picked the book up and couldn't put it down. Meryl and Hugh have three daughters Meg Amy and Jo. All three girls end up getting engaged and want to get married in the same year. Unbeknownst to them, dad Hugh has lost his job at the University. His wife is trying to handle everything, she doesn't want a wedding planner tells the Mother of Meg's fiance, who is very very rich and wants to control everything, Meryl won't have it.

After her second daughter shows up with a ring on her hand she starts to worry how will they pull these weddings off in one year with Hugh not working and the apartment they have lived in for years will no longer belong to them soon as it came with Hugh's job!

Jo's breakup with her girlfriend Caroline is devastating and she turns to her friend Andy for sympathy, and before she knows it, Andy is asking her to marry him. He has always loved her, and if she doesn't feel exactly the same that is ok. He knows she loves him, she isn't in love with him. She says yes, and now her Mom has to put together three weddings! The solution one wedding three brides. She has to get them all to agree, they do and then she is not only trying to put together a wedding for three brides.

Meryl's Mom starts having problems and is being kicked out of her apartment as she is disturbing the other residents. Mom moves home with Meryl and Hugh. No one knows that Hugh has lost his job! More and more problems crop up in planning this triple wedding. So many surprises many unexpected. Is Meryl going to get her girls safely to their "I do's"? You'll have to read the book to find out! Such a fast read you can't put this book down.

More as found here on Good Reads: Meryl Becker is living a mother's dream. The oldest of her three beautiful daughters, Meg, is engaged to a wonderful man from one of the country's most prominent families. Of course, Meryl wants to give Meg the perfect wedding. Who wouldn't? But when her two younger daughters, Amy and Jo, also become engaged to celebrated bachelors, Meryl has to admit that three weddings is more than she and her husband, Hugh, can realistically afford.

The solution? A triple wedding! At first, it's a tough sell to the girls, and juggling three sets of future in-laws is a logistical nightmare. But when Hugh loses his teaching job, and Meryl's aging mother suddenly moves in with them, a triple wedding is the only way to get all three sisters down the aisle. When the grand plan becomes public, the onslaught of media attention adds to Meryl's mounting pressure. Suddenly, appearances are everything - and she will do whatever it takes to keep the wedding on track as money gets tight, her mother starts acting nutty, and her own thirty year marriage starts to unravel.

In the weeks leading up to the nuptials, secrets are revealed, passions ignite, and surprising revelations show Meryl and her daughters the true meaning of love, marriage and family. Jamie Brenner's The Wedding Sisters invites readers to the most unpredictable wedding of the year.